U.S. Department of State (DoS) Alumni
DoS Alumni Networks play a significant mentoring role pre- and post-U.S.-based exchange. Of the 36 eligible TechGirls countries/territories, TechWomen alumnae are ready to engage in 19, and TechGirls alumnae can be found in 12. There are extensive DoS networks in all participating countries/territories from which volunteer mentors will be secured. ECA Alumni Engagement: Legacy encourages TechGirls' active engagement in embassy and DoS alumni activities. Legacy introduces alumni to the International Exchange Alumni website (alumni.state.gov) Engagement Innovation Fund (AEIF) grants or U.S. embassy hosted events.
Virtual Mentoring: Two virtual mentor sessions per country will be facilitated by Legacy annually: the first in May 2022 prior to travel to U.S., and the second meeting in September 2022, pairing in-country mentors with youths through project implementation. Virtual Mentorship Resources: In addition to highlighting the DoS Alumni MentorTalks series, Legacy conducts TechGirls-specific synchronous and asynchronous activities to engage the alumni network and foster mentoring (see chart).
TechWomen-TechGirls Networks
Since 2012, alumnae from the TechWomen and TechGirls programs have become a robust network making great advancements for women in STEM. The TechWomen and TechGirls networks that currently operate in Near East Asia, South Central Asia and Sub-Saharan Africa provide a forum for mentoring and career counseling. Virtual and real-time meet ups help club members collaborate. The networks offer:
Professional and peer mentors for community projects,

Motivational speakers for career fairs or speaker panels,

Volunteer opportunities for TechGirls at events organized by TechWomen,

Bi-monthly or quarterly virtual meet ups: TechWomen share insights with TechGirls on topics such as community service, interviewing tips, social media storytelling, education paths, work/life balance, making your voice heard, networking.
Connect with Us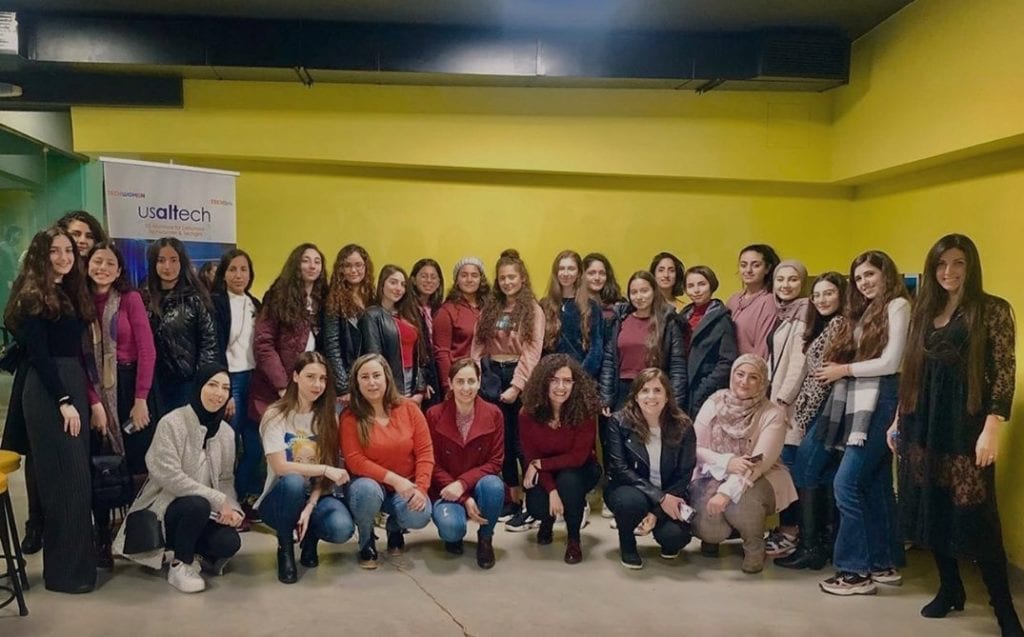 TechGirls Virtual Mentorship Resources
On-Going Synchronous Events Quarterly Regional Networking meetings of TechGirls with selected DOS alumni (TechWomen, TechGirls, DOS alumni involved in STEM) introduce the TechGirls to experts in their country. Celebrating Women Conference (Annual-March) Legacy call for speeches among TechWomen and TechGirls networks. 5-6 speakers selected for webinar followed by networking in breakout rooms. TechTalks (Bi-monthly) 1.5 hour peer-to-peer mentoring sessions by TechGirls alumnae. Legacy team coaches on presentation/facilitation skills.
Asynchronous Mentoring Video Library TechWomen Profiles of Women in STEM TechGirls-exclusive Job Shadow Host videos featuring Amazon, Qualtrax, NPR, Vox Media, Carilion Clinic, BlockOne, NASA researchers, inventors' interviews, Virginia Tech Faculty on creating a club, teaching coding, career counseling. Over 20 videos and Learning Management System courses from TechGirls alumnae e.g., how to make the most of a mentor, succeed in college entrance applications, find job opportunities, code, LinkedIn best practices, public speaking.
TechWomen Mentorship of TechGirls
TechWomen leaders extend their support to TechGirls alumnae and provide their wisdom and insight as women in STEM. Please enjoy this resource to inspire and empower you as a global STEM leader!