On the sunlit morning of Monday, July 31, 2023, the 2023 TechGirls – 125 young women from 36 countries and territories – gathered together at the U.S. Department of State (DOS) dressed in their best attire for the program's official Capstone event.
During the past three weeks of this summer exchange funded by the Bureau of Educational and Cultural Affairs (ECA), the TechGirls had various life-changing experiences. They completed expedited college-level STEM courses at Virginia Tech and explored six different American host cities. With the program now in its final stage, centered in the nation's capital, the TechGirls had this day to share all they had learned and accomplished with DOS officials.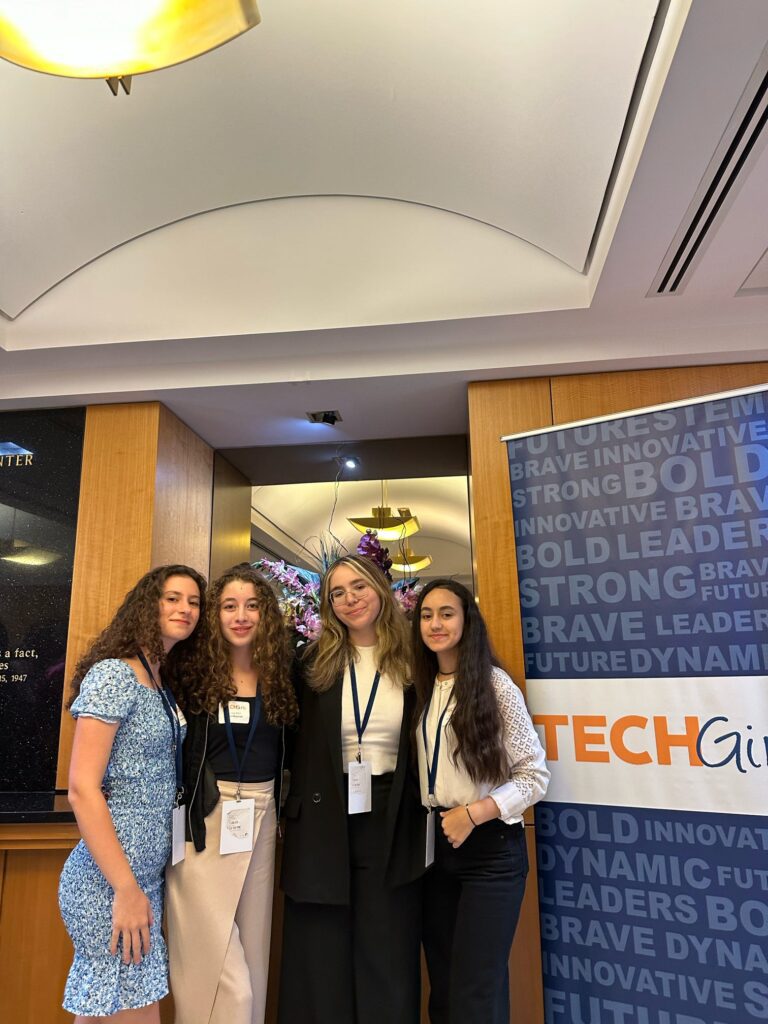 The event included several highlights, including inspirational video remarks from U.S. Secretary of State Anthony Blinken, encouraging remarks by ECA Assistant Secretary Lee Satterfield, a Women in Leadership panel, and the release of Legacy International's 2023 official program video.
One of the most exciting parts of the event was when a select group of TechGirls participants delivered their Capstone speeches. Seven TechGirls, intentionally selected to represent each region of the program, shared their reflections on the past month of cultural exchange.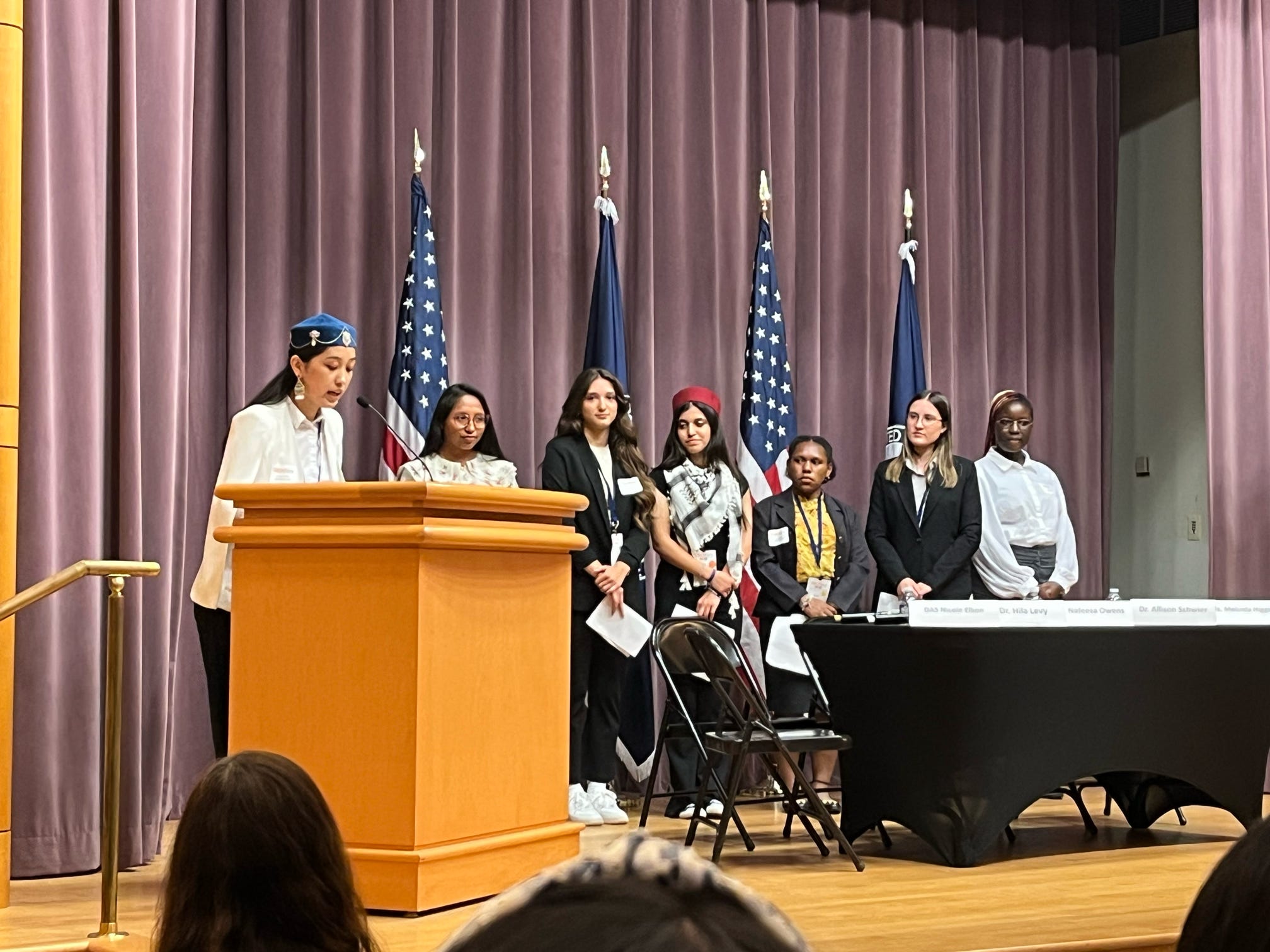 In these speeches, the speakers reminisced about each stage of the program and the joys, lessons, and triumphs they now associated with their TechGirls experience. Kuralay from Kazakhstan talked about building STEM skills through courses and workshops at Virginia Tech, the first key part of the summer exchange. In her speech, she also celebrated the network the TechGirls built during their time there:
"Today is a momentous occasion as we gather as a diverse and unified force for change. Throughout our time at Virginia Tech, we not only acquired valuable technical skills and knowledge, but also discovered the profound potential within ourselves to make a positive impact. Each one of us brings a unique perspective and strength, collectively forming a formidable network of talent and inspiration."
After Virginia Tech, TechGirls visited host cities in other parts of the United States. Many TechGirls now consider this community immersion portion a cherished experience thanks to the hospitable host families they encountered and the relationships that participants developed with one another. Mera from the Palestinian Territories focused on how much she enjoyed her time with her host family and fellow participants:
"A poet once said: 'ما اجمل الغرباء عندما يصبحو اصدقائنا بالصدف'. 'How beautiful it is when strangers we never thought we'd ever meet become friends and as close to family.' I want to thank my host family and community for helping me through this experience and making sure I made the most of it. It was very educational and eye-opening to see how every single one of us got a different experience and a different story to tell."
The host city portion included a significant amount of STEM exploration as well. These experiences allowed TechGirls to see the abundant paths they could choose for the future. Rehema from Kenya alluded to this point in her speech:
"During my job shadow experience in Denver, Colorado, I met so many strong and powerful women who, just like me, didn't have the straightest of paths to get to where they were. I learned about the struggles they went through and how they overcame them. In these moments, they felt more human to me instead of just figures of great intelligence and success. I even met one lady who never did enough math and science classes in high school but still managed to secure a high position in STEM, all because she had the passion for it. I also learned that there are so many different possible career paths to pursue in STEM and that even if a path doesn't exist, you can make it exist."
By the time of the Capstone event, TechGirls had already started preparing to return to their respective homes. With this in mind, the speakers reminded their fellow participants of the exciting things to come. Adriana from Bolivia brought everyone's attention to the next big step after the summer exchange: implementing a Community Action Project (CAP) to positively impact each TechGirl's community:
"I feel passionate about improving the education in my country using technology's power. So, I will create SMARTCAMP. This will be a minicamp designed to empower teenagers with the potential of internet tools like Google Space or Chat GPT. It will also include methods to promote positive mental health practices inspired by the evening huddles we shared during our time at Virginia Tech, that created a safe and supportive space for all of us."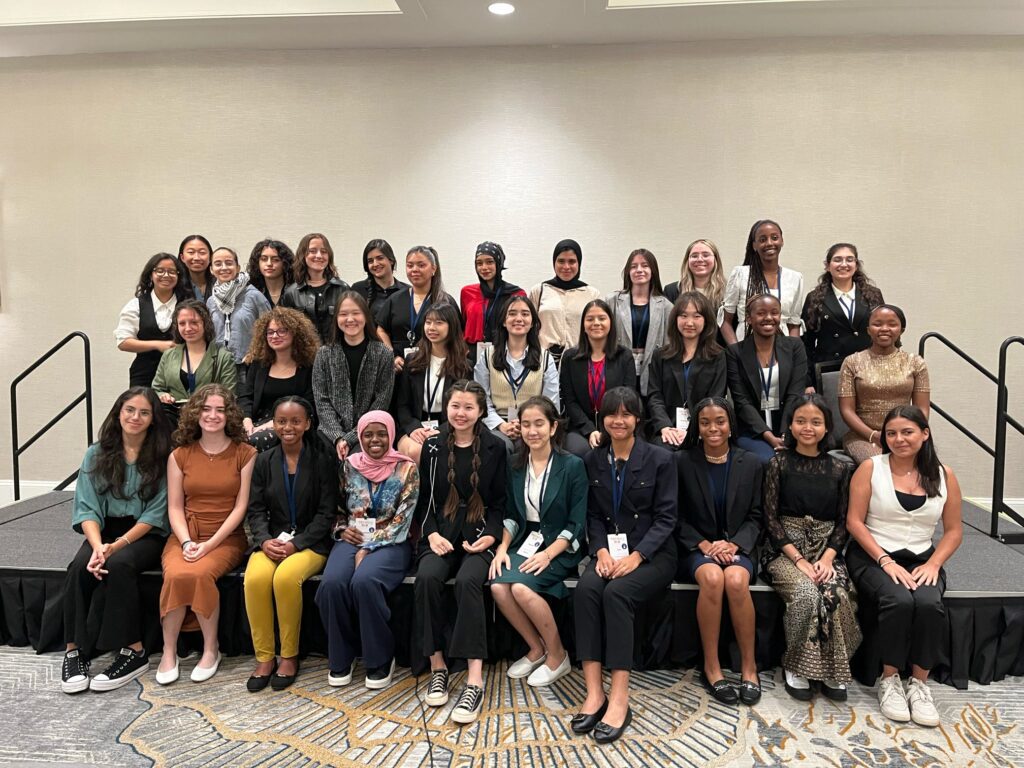 In addition to significantly developing their STEM skills during the program, TechGirls also built personal development skills necessary to navigate a challenging field. As a result of the exchange, these young women felt more confident in themselves and their potential to do amazing things. Charli from the USA used her speech to make sure her fellow TechGirls remembered that:
"I implore all the girls listening: be proud. Only you know your path, with its own unique triumphs and sorrows. In an uncertain world, your strength gives me hope for a better and stronger future. Go home and be fearless in your pursuit of improvement, setting your sights on nothing lower than exceptional change. Reach out to people you'd never expect to connect with, learn coding languages you never thought you could- whatever this looks like for you, do it. At the risk of sounding cliche, you must believe in yourself and your own infinite potential."
The confidence this program cultivated in these young women will help them be changemakers in their communities. Yabol from Indonesia talked about how the TechGirls program showed her that she could break barriers and stereotypes back home:
"Participating in this program has been life-changing, reshaping my perspective and broadening my horizons. It made me realize the plethora of opportunities awaiting young people worldwide, particularly young women. I have come to understand that women in my village can also achieve anything they aspire to, rather than being confined to traditional roles in the kitchen or child-rearing. Through this program, we all become potential role models for others, inspiring those who look up to us."
The end of this summer exchange signaled the eventual start of a new TechGirls cohort. At the end of her speech, Keona from Albania noted how this program brought hope, not just to the TechGirls present on that day but to generations of TechGirls to come:
"With every step we take, we pave the way for future generations of TechGirls, inspiring them to pursue their dreams fearlessly and unapologetically. Though we say goodbye for now, let us embrace this bittersweet moment with hope and determination. Our paths may cross again, but the impact of our unity will resonate for generations to come."

Like the 500+ TechGirls alumnae before them, these speakers and the others in their 125-strong cohort showed that there is immense power in each of these young women. This Capstone event was so much more than an opportunity to reminisce about fun memories. It also allowed the TechGirls to motivate each other as they took the next step forward in their respective journeys to bring positive change to their families, communities, and the world.
About the Author: Nana Bruce-Amanquah is a Program Associate for the TechGirls program, a U.S. Department of State initiative administered by Legacy International.